Mitsubishi Electric Around the World
What's for Lunch? Australia
Let's Talk About Food!: Mitsubishi Electric Australia Celebrates Cultural Diversity
Mitsubishi Electric Australia Pty Ltd
In March, Mitsubishi Electric Australia (ME-AUST) held a Taste of Harmony Day celebration. This annual event appreciates cultural diversity in the workplace, and staff are encouraged to bring into work a plate of food from their home country to share with their colleagues.
The ME-AUST head office, located in Rydalmere, west of Sydney, has staff from all over the world, which means on the day of this event every year, the office enjoys food from around the globe. The staff say talking about your home country's food is a good way to let your colleagues know more about you when everyone has a different cultural background.
Here are some of the staff members who participated in this delicious event and shared their food stories.
1. Kay Loudon — ANZAC biscuits
Kay Loudon (left) is a credit controller in charge of collections, account management and reporting. She is from Australia.
"I brought in ANZAC biscuits (right)", says Kay. "They represent my Australian heritage".
'ANZAC biscuits' got their name from the Australian and New Zealand Army Corps, a WWI army corps that operated during the Gallipoli Campaign (1915-1916). "These biscuits have been sent as part of a care package to our troops serving abroad since the late 19th century, but they have only been called 'ANZAC biscuits' since the term ANZAC was coined in the First World War", explains Kay.
"The original biscuits were tough", says Kay. It's because they had to withstand the rigours of travel. And they needed to be soaked in water to become edible. "The recipe has been modified over time, resulting in the delicious, chewy biscuits we have today", she adds.
The basic ANZAC biscuits are made of oats, flour, coconut, sugar, butter, golden syrup and other ingredients. Traditionally, they don't contain eggs as a binding agent (instead, golden syrup acts as a substitute for eggs) in part because during WWI, eggs were scarce after many poultry farmers joined the war effort. So, ANZAC biscuits remind us of that difficult period in Australian history.
About the event: "I enjoyed tasting all of the food contributed by our multicultural staff and sharing the stories behind their dishes".
2. Don Phornsiri — Crying Tiger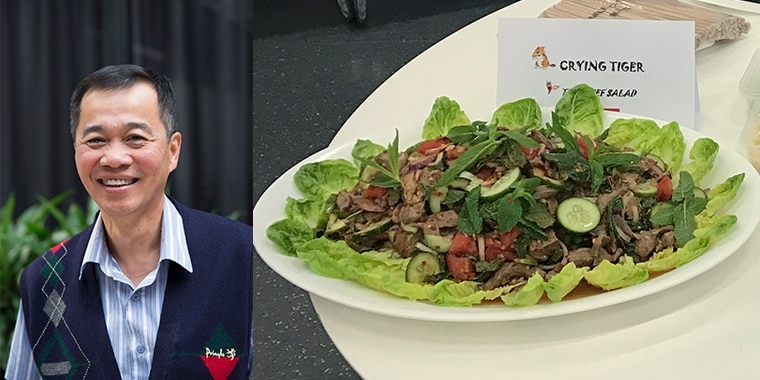 Don Phornsiri (left) is an automotive equipment sales support specialist in charge of internal sales support functions, purchasing and inventory activities. He is from Thailand.
"The dish I brought in for Harmony Day was 'crying tiger' (right)", says Don. "This dish is a refreshing combination of spicy and fresh aromatic ingredients, and is a famous grilled beef brisket recipe in Thailand".
In a multicultural potluck like this, almost certainly, the dish's cool, mysterious name will catch the attention of non-Thais and be a quick conversation starter. Why on earth is this dish called "crying tiger"?—there seems to be several widely accepted theories in Thailand.
One: Nicely marbled beef brisket has tiger stripes. When such a brisket is grilled over a fire, the melted fat will drip off the meat, giving the appearance of a tiger weeping.
Two: The spicy chili dipping sauce is so hot that it would even be able to make a tiger cry.
Three: This is a folk tale. A long time ago, a hungry tiger stole a cow from a village. The tiger started eating and ended up feeling so full that he wasn't able to finish off the last bit—the brisket. The greedy tiger then tried a bite for the brisket and found out this tender part was the best of all. But it was too late. All the tiger could do was to shed tears of regret.
Don believes in the second theory. "The dressing is hot enough to bring tears to people's eyes, including some tigers", he says.
"Normally, I only cook this dish on special occasions", he adds. This casual remark implies how important this cultural diversity celebration is to him.
About the event: "I enjoyed every dish from our multicultural colleagues. I'm already looking forward to next year's Harmony Day event".
3. Hiral Adhyaru — Dhokla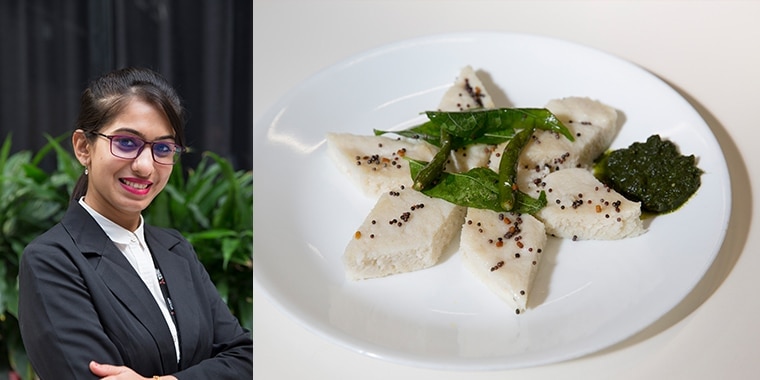 Hiral Adhyaru (left) is a spare parts specialist working in the service department. She is from India.
"I brought in dhokla (right)", says Hiral. "A special dish from my home state of Gujarat in western India".
Dhokla is a steamed food with a fluffy texture similar to a sponge cake, made with a fermented batter, spiced with chili pepper, ginger and more, comprised of rice and split chickpeas that have been soaked overnight and then ground. This savoury fast food is usually served with deep-fried chillies and chutney made from coriander and mint.
"Dhokla is a breakfast staple in Gujarat, but it's also eaten as a main course or side dish throughout the day. And as a snack", says Hiral.
Like many other Indian foods, Dhokla doesn't contain any meat, which makes the food suitable for vegetarians like Hiral. In fact, according to 2009 data from the Food and Agricultural Organisation of the United Nations, India's annual meat consumption per capita is only 4.4 kg (the second lowest after Bangladesh), which makes India one of the world's most vegetarian-friendly countries.
About the event: "As I'm a pure vegetarian, I couldn't taste every dish, but still enjoyed Philippine sweets and other Indian dishes. I was really happy Mitsubishi Electric celebrated Harmony Day. And I was really happy to see contributions from all our employees. The office was filled with lots of happiness and love. That was inspiring".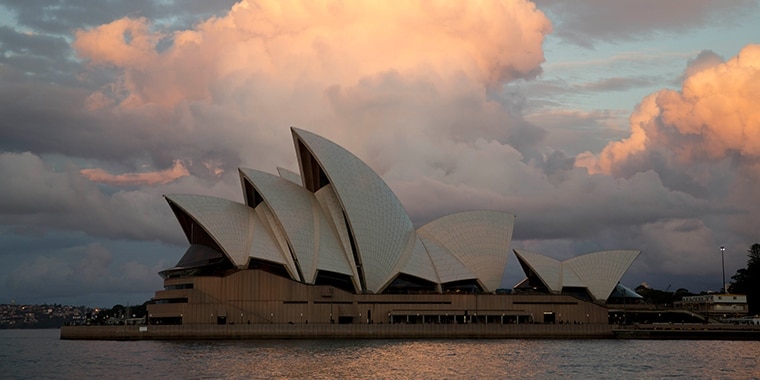 The ME-AUST head office is located about 30 km from the Sydney Opera House.
---
For more information