Mitsubishi Electric Around the World
What's for Lunch? Russia
Healthy lunch in Russia
Mitsubishi Electric (Russia) LLC
As an employee of Mitsubishi Electric (Russia) LLC, Alyona Blinova (pictured below) plays a role in promoting the company brand in Russia and CIS. Her tasks include public relations, internal communications and CSR.
Today, Alyona ate lunch in the office kitchen. Her meal was very healthy — a stew made from white beans with turkey and green vegetables. To make it even more tasty, she added Japanese soy sauce and sesame oil. Alyona's colleagues from other divisions sat at the next table and they chatted about their children and their attitude towards different foods.
"My lunch may have looked simple, but it was actually really delicious and definitely very healthy," Alyona says.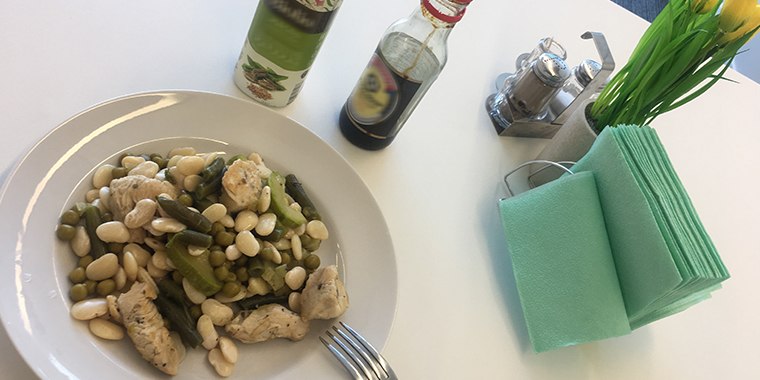 Most days, Alyona brings a lunch box from home. She is grateful to her company for providing all the necessary facilities that allow her to enjoy a homemade lunch at work. She watches what she eats closely and appreciates that she can bring fresh food to the office, including fruits, vegetables and the main dish. Usually, Alyona's lunch consists of vegetables and some form of protein, such as meat or fish.
When she doesn't have time to cook a hot meal, Alyona likes to make a tuna salad in her company's kitchen as a quick and tasty alternative. Sometimes she purchases healthy food at the cafe on the first floor of the office building. There are many canteens, coffee shops, cafes and restaurants in the surrounding business area so she and her colleagues can always enjoy a change.
Below are photos of the building where Alyona works (top left), the reception (top right), the canteen (bottom left) and the first-floor cafe (bottom right).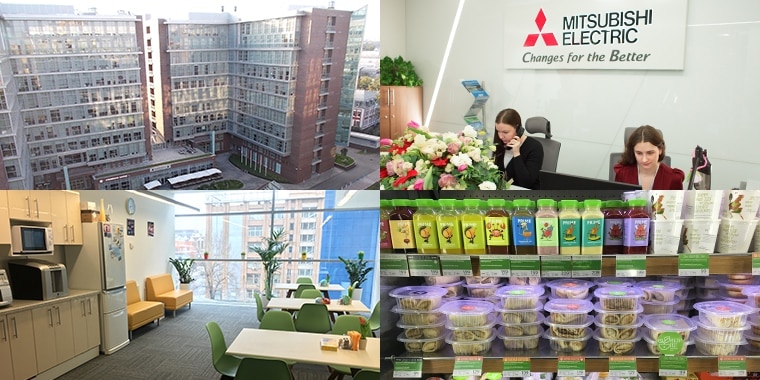 ---
For more information