Mitsubishi Electric Around the World
What's for Lunch? Myanmar
The Food of the Golden Land: Authentic Burmese Dishes at a Popular Local Restaurant
Mitsubishi Electric Asia Pte Ltd. — Yangon Branch
Wai Me Phu (left) works for the Yangon branch office of Mitsubishi Electric Asia Pte Ltd. (MEAP) in Yangon, Myanmar. As a marketing and business development executive, she supports the company's local appointed distributors and provides assistance to visitors from Mitsubishi Electric Corporation (MELCO), MEAP and other related companies.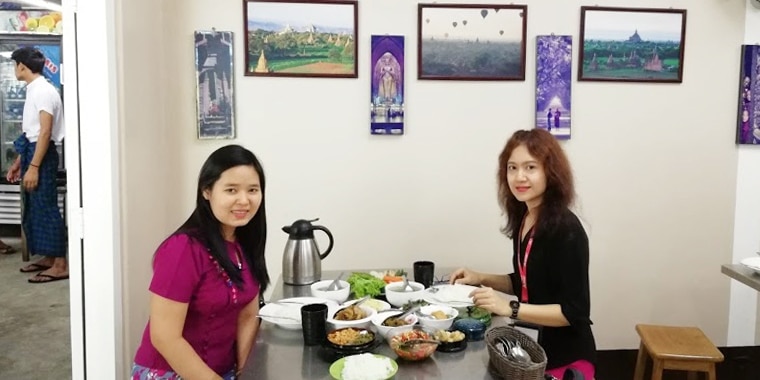 In Myanmar, people bring their lunch to work every day. Wai Me is no exception. At lunch time, she usually joins her colleagues in the office canteen and enjoys her lunchbox of succulent Burmese foods cooked with love by her mum, such as rice, meat curry, fried vegetables and salad. But occasionally, when she doesn't bring her lunch from home, she goes out to a nearby restaurant.
One day in February, around noon, Wai Me and her colleague Pyae Pyae drove for about 15 minutes to one of their favourite Burmese restaurants. At the busy eatery, which was packed with locals, they savoured a spread of authentic Burmese dishes: laphet thoke (a traditional Burmese tea leaf salad), chicken curry, prawn curry, fried vegetables, a vegetable platter with a ngapi (fermented fish paste) dipping sauce, clear vegetable soup, laphet (fermented tea leaves) and nuts, and palm sugar.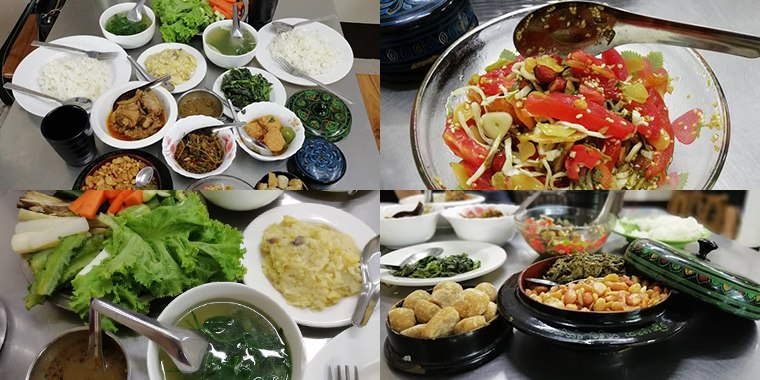 "Most Burmese dishes might be a little too oily for people from other countries", says Wai Me. "And basically, we love strong flavours as well — salty, spicy, sour or whatever".
Sounds kind of heavy, perhaps. But if you are new to Burmese food, you don't have to be afraid to try some. Chunks of palm sugar (left, bottom right), one of the most popular desserts in Myanmar, will protect your stomach. "It's good for your digestion after a heavy meal", explains Wai Me.
At the same time, eating a heavy meal is likely to make you feel sleepy. But again, there is one traditional Burmese food that will help you — the delicious laphet. In Myanmar, people rely on the effects of caffeine from fermented tea leaves, eaten as dessert (right, bottom right) or used as a salad ingredient (top right), when they need to ward off sleepiness. According to a study, the caffeine content in laphet is roughly 3 mg/g. But be careful: eating too much of it can disturb your sleep.
So, Wai Me and Pyae Pyae's lunch that day was not only yummy, but scientifically beneficial, too. What a sensible cuisine!
Wai Me believes that the Shwedagon Pagoda is the most iconic landmark in Myanmar — the heart of its people. The Shwedagon Pagoda, one of the most sacred Buddhist pilgrimage sites in the world, is said to have been built over 2600 years ago and houses eight strands of Buddha's hair and other holy relics. The revered place has four entrance stairways—north, south, east and west—and the eastern entrance is just a 15-minute walk from the Yangon branch office of MEAP.
---
For more information