Mitsubishi Electric Around the World
What's for Lunch? Spain
It Always Pans Out Well: Seafood Paella in the Company Canteen
Mitsubishi Electric Europe B.V. — Spanish Branch
Gabriel Hoyos Pérez (centre) works for the Spanish branch of Mitsubishi Electric Europe B.V. (MEU) in Barcelona, Spain. As an HR technician, he carries out his responsibilities for human resource development, employee relations, benefits, compensation, payroll and other human resource management activities.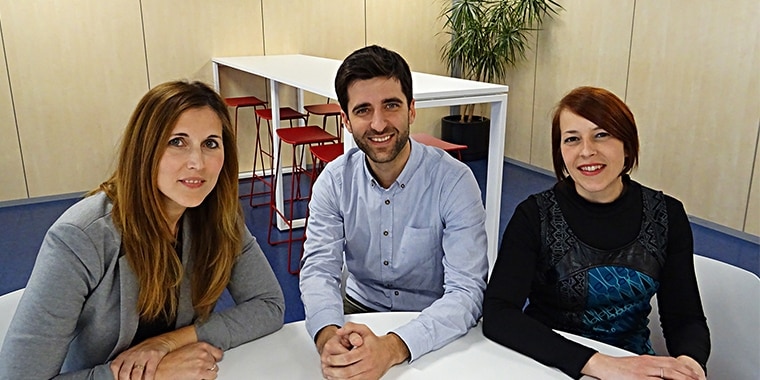 Gabriel mainly follows a regular weekly lunch schedule: every Monday and Wednesday, he brings a lunchbox from home; every Tuesday and Thursday, he orders a meal from catering; and every Friday, he likes going to a nearby fusion cuisine restaurant. And at the heart of this rotation lies his love for traditional Spanish food.
One lunch time in February, Gabriel got together with his HR colleagues in the canteen as usual. "I usually eat with them. But sometimes, I share a table with people from other departments who I don't see very often in the office", says Gabriel. "So, lunch time gives me a great opportunity to talk to them as well as a good break to recharge my batteries for the rest of the day".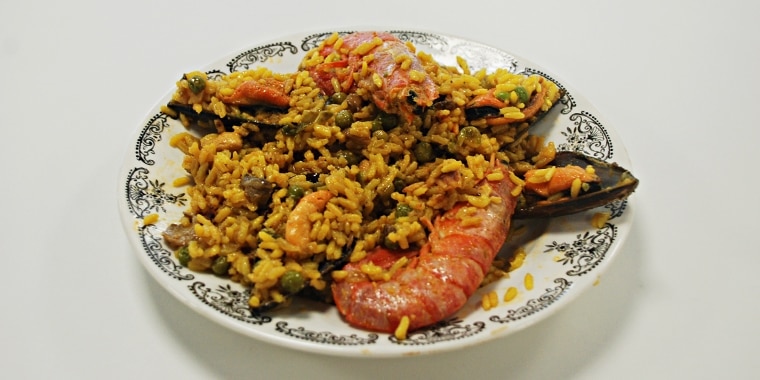 Gabriel ordered a bowl of seafood paella from a caterer serving home-style Spanish dishes cooked with fresh local organic products. His healthy bowl contained cuttlefish, king prawns, mussels, vegetables... "And, of course, rice. Rice is the main ingredient of any paella", says Gabriel.
Paella, a Spanish lunchtime staple for weekend family gatherings, now has such worldwide popularity that smartphones and messaging apps have their own emojis for the rice dish. But needless to say, the original recipe was born in Spain. "It originated in Valencia a long time ago", explains Gabriel. "And then, its popularity spread throughout the country. For that reason, there are many variations, and each area has its own recipe". Seafood paella is one of them; the traditional Valencian paella typically consists of meat (chicken, duck and rabbit), beans, snails and rice.
Another interesting fact: in Spain, except at weekends, paella is traditionally eaten on Thursdays, when a lot of Spanish restaurants put the dish on their lunch menus. The reason for this tradition is unknown. Of course, it was on a Thursday that Gabriel, who respects Spanish customs and traditions, ate this delicious-looking seafood paella for lunch.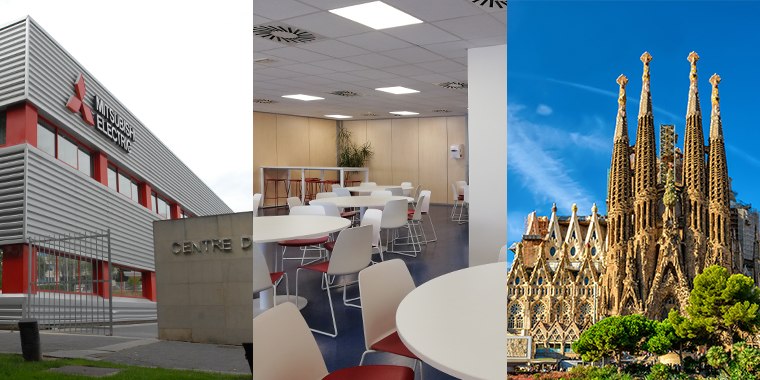 The Spanish branch of MEU is located about 20 km from the Sagrada Familia, which Gabriel believes is the greatest icon of Catalan modernist architecture (left to right: the office, the company canteen and the Sagrada Familia, one of the most visited monuments in Spain). He says, "We feel very lucky to have such an architectural jewel so close to us".
---
For more information